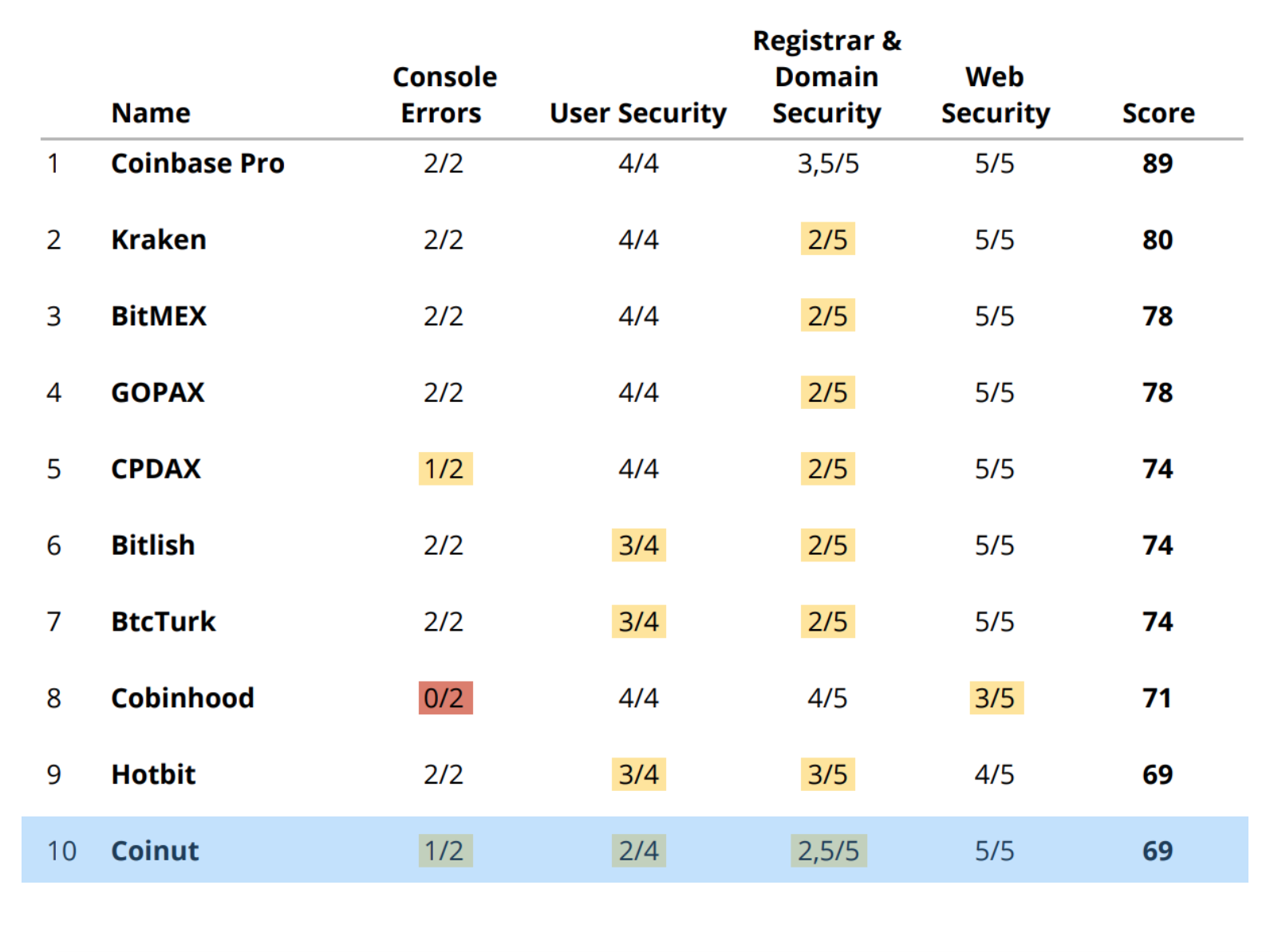 Coinut was recently ranked top 10 most secure cryptocurrency exchange, according to ICO Rating, in a report released in October 2018, titled "Exchange Security Report". Coinut cryptocurrency exchange averages around $2 million daily trading volume and offers crypto-to-crypto and crypto-to-fiat exchanges. Coinut even outranked cryptocurrency exchanges like Bittrex (13th) and Binance (17th) in terms of its security ratings.
The independent research firm, ICO Rating, highlighted that "over the past 8 years about 31 crypto exchanges have been hacked and more than 1 billion dollars stolen", citing examples such as Mt. Gox. The report analysed the security practices of over 100 different cryptocurrency exchanges with at least $1 million daily trading volume and ranked the exchanges based on four criteria - Console Errors, User Security, Registrar & Domain Security, and Web Security. The report also found that 54% of all cryptocurrency exchanges have poor security in at least one of the criteria.
How did Coinut establish itself as the top 10 most secure cryptocurrency exchange in the world?
---
1. Enforcing Basic Security on the Platform
Console Errors (Free from code errors & defects)
User Security (Password security, Email verification, 2FA authentication)
Registrar & Domain Security
Web Security
2. Encrypted Data Storage & Semi-manual Processing of Transactions
Coinut ensures that its platform is secure and hack-proof by storing its online data using encryption technology. Other more important cryptocurrency data is stored offline, thereby preventing hackers from accessing these information. Furthermore, deposits and withdrawals of cryptocurrencies or fiat currencies are processed semi-manually. Any unexpected surge in deposit or withdrawal volumes will trigger the security system, and the Coinut team will specially authenticate the user's activity before processing the transaction.
3. Regulated by FINTRAC - Money Service Business (Canada)
Coinut platform is registered and regulated under the FINTRAC - Money Service Business by the Government of Canada. This reflects our commitment of keeping your digital assets safe, thereby allowing you to trade cryptocurrency with fiat currencies securely.
4. KYC / AML Compliance
Coinut platform is compliant with stringent KYC / AML requirements. Additionally, we verify our users using Riskscreen (AML Screening & Data Analytics Technology) to ensure compliance, before approving their option to deposit in fiat currencies. Coinut currently operates under the New Payments legislation in the form of the proposed Payment Services Bill by the Monetary Authority of Singapore. Coinut is also an officially registered cryptocurrency exchange under Bank Negara Malaysia.
5. Stringent Initial Coin Offering (ICO) checks
Listing ICOs is really popular for many cryptocurrency exchanges because they can earn from the listing fees that ICOs are required to pay. However, many of these ICOs may introduce security loopholes into the trading platform. Some of these tokens also may not have any 'real' proof of concept or a sizeable trade volume. This means users could purchase these worthless 'shit coins' and be unable to liquidate them when necessary. Coinut's technical and compliance experts will always perform an in-depth analysis on every Cryptocurrency before it is listed on the trading platform.
6. Fastest and Safest Trade Matching Engine
COINUT utilizes an advanced trade matching engine that can match 2.6 million trade orders per second, which is amongst the fastest of all cryptocurrency exchanges. The platform's backend system is written in C/C++ instead of the more prevalent but slower scripting languages like NodeJS or PHP. This engine allows you to trade cryptocurrency securely and efficiently.
7. Trade with Fiat currency
The recent issues surrounding Stablecoins (Read our CEO's analysis here), like USDT, has resulted in market volatilities in the Cryptocurrency world. Coinut allows you the option to use different fiat currencies to buy, sell and trade cryptocurrencies, like Bitcoin, Ethereum and Litecoin. The platform currently offers trades with Canadian Dollars (CAD), Singapore Dollars (SGD) and US Dollars (USD). This means that Coinut is the safest and most convenient way to enter a trade position or to liquidate your digital assets quickly.
---
Sign Up Now & Earn Free Litecoins